---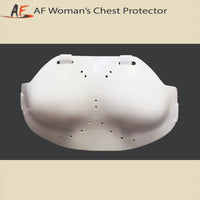 Worn separately or underneath a padded fencing jacket or gambeson, the Absolute Force chest protector will provide additional protection against hard thrusts from a variety of weapons ranging from foils, longswords, arming swords, rapiers, sabers and more. This chest guard is made from high quality plastic with nylon straps that make it easy to make adjustments for size.  This chest guard has been designed to accommodate women.
Female size XL: 45x22cm (17.7x8.7in); 210g (7.4oz); for bust 95cm+ (37.40in+).
Female size L: 44.5x21cm (17.5x8.3in); 208g (7.3oz); for bust 90-94cm (35.43-37in).
Female size M: 42.5x20cm (16.7x7.9in); 194g (6.8oz); for bust 86-89cm (33.86-35.04in).
Female size S: 42x20cm (16.5x7.9in); 190g (6.9oz); for bust 83-85cm (32.68-33.46in).
Female size XS: 35x16.5cm (13.8x6.5in); 144g (5.1oz); for bust 80-82cm (31.50-32.28in).