---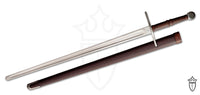 Sale
I-Beam Blunt Longsword Trainer - designed by Angus Trim (Atrim)
Angus Trim developed this style of HEMA training sword (he coined it I-Beam after the profile design) a while back to solve two problems - Tapered blunts with thin edges that were quickly chewed up and thick blunts that handled like crow bars. The massive central fuller allows for more metal at the edge while keeping the sword lively in the hand.
PRODUCT DETAILS
Key Features:
3.25mm Thick Edge
Leather Covered Scabbard Included
SPECIFICATIONS
Overall: 45"
Blade Length: 34 7/8"
Handle Length: 8"
Weight: 2 lbs 12 oz
Point of Balance: 6"
Blade Steel: 9260

Specs will vary slightly from piece to piece.