---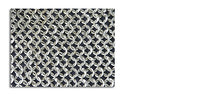 Sale
We provide loose rings (and rivets, where applicable) to cover each style of GDFB  mail, enabling the re-enactor or costumer to both construct mail garments from scratch and to customize pre-made pieces.
These rings and rivets, when used in conjunction with the GDFB OB2360 riveting tool, will facilitate customization of any of our Code 2 mail garments.
Flat European Ring / Wedge Rivetted
Gauge: 17ga
Diameter: 9mm

Specs will vary slightly from piece to piece.