---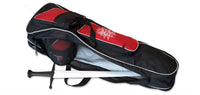 Sale
The Red Dragon Armoury HEMA Kit Bag is the perfect companion for the Sword and Buckler, Backsword, Sidesword and all other single hand sword practitioners. At 46" long it will take all but the longest of single hand swords. The sword compartment is split into 2 sections running along the full length of the bag.
As such it is possible to keep your swords and blades, or even masks separately. The generous size of this bag will allow for 2 masks and possibly another depending on the size of your masks. The 2 large pockets are great for storing gloves, sword parts, gorgets or even bottles of water!
The bag is constructed from heavy duty material with robust zips and features 2 carry handles and a pair of adjustable straps to allow the bag to be carried as a rucksack.
Please note that this bag is not large enough for long swords.
Key Features:
Heavy Duty Construction
Enough Room for Several Swords and Masks
Can be Carried as a Backpack