---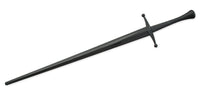 Sale
A combination of the Extended Pommel and Xtreme Single hand blade becomes the Rawlings Xtreme Bastard Sword. This sword is very popular with younger students where it can be used as a longsword trainer with great effect.
SPECIFICATIONS
Overall: 44 1/2"
Blade Length: 34"
Handle Length: 9 1/2"
Weight: 1lb 9oz
Point of Balance: 5 1/2"
Made In The United Kingdom

Specs will vary slightly from piece to piece.