---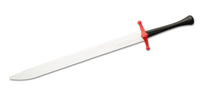 Sale
The Red Dragon Armoury Proline Xtreme Messers are manufactured from the same special blend of high-impact polymer used in the construction of other swords within the Proline Xtreme range.
The Messer was part of the curriculum of several fencing manuals in the 14th and 15th centuries, including Lecküchner, Codex Wallerstein and Albrecht Dürer.
This Sparring Messer is comprised of the white sparring messer blade, red messer guard, black grip and black pommel.
PRODUCT DETAILS
White Blade
Made in the U.K.
Overall: 37 5/8"
Blade Length: 29 1/2"
Handle Length: 6 1/2"
Weight: 1lb 5oz
Point of Balance: 6"

Specs will vary slightly from piece to piece.