---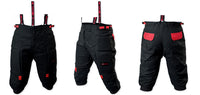 Sale
The HEMA Sparring Pants by Red Dragon are designed for HEMA and are constructed from a 350N rated heavy-duty cotton. They feature padded protection panels on the front of the upper thighs and a layer of padding over the knees.
The level of protection on the knees can be improved by inserting the Red Dragon Knee Protectors into the Velcro fastened pockets. There are 2 adjustable straps at the waist for a comfortable fit and elasticated braces to hold them in place. They also feature 2 pockets at the back, a zipped fly and are elasticated below the knee. 
These padded fencing pants are excellent entry level protection and we've priced this competitively to make it more affordable for new students.
Small - Waist: 32" (82cm) | Hips: 38" (98cm) | Length: 27" (69cm) | Thigh: 24"(60cm) | Weight: 1.8 lbs (814g)
Medium - Waist: 35" (88cm) | Hips: 42" (112cm) | Length: 28" (71cm) | Thigh: 25" (64cm) | Weight: 2 lbs (862g)
Large - Waist: 39" (98cm) | Hips: 42" (106cm) | Length: 29" (73cm) | Thigh: 27" (68cm) | Weight: 2.2 lbs (926g)
X-Large - Waist: 44" (108cm) | Hips: 46" (118cm) | Length: 30" (79cm) | Thigh: 28" (72cm) | Weight: 2.3 lbs (1032g)
(Please keep in mind when ordering these pants that you will need to take into consideration the wearing of a protective cup if male, and possibly any other undergarmets such as leggings or shorts you might wear under these pants. These pants feature an adjustment waist to make it easier to accommodate these differences but they can only be adjust to be smaller, not larger) 
PRODUCT DETAILS
Key Features:
Designed for HEMA Practitioners
Comfortable and easy to use
Innovative and functional design
Specs will vary slightly from piece to piece.