---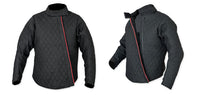 Sale
The HEMA Light Sparring Jacket by Red Dragon is designed specifically for HEMA practice and is constructed from a 350N rated heavy-duty cotton with an inner lining. The jacket features less padding than the standard Red Dragon HEMA Sparring Jacket and is better suited to single hand weapons such as rapier and sabre.  This jacket has no padding on the back as it is very rare to receive effective blows here – especially from rapiers and sabres. This has the effect of reducing the weight of the jacket whilst increasing the breathability. It also does not have padding on the inside of the arms reducing the weight further. The padded collar features a blade catcher to help protect against stray thrusts that may go under the bib of a fencing mask but a separately purchased gorget is still recommended to be worn for safety.
The back of the jacket features an adjustable webbing strap with Velcro attachment which allows it to be pulled in at the waist for a more streamlined fit.
This sparring jacket is an excellent entry level jacket and we've priced this competitively to make it more affordable for new students.
Small - Sleeve Length: 21"(53cm) | Chest: 42"(106cm) | Waist: 38"(98cm) | Length: 24"(61cm) | Weight: 3.5 lbs (1590g)
Medium - Sleeve Length: 22" (56cm) | Chest: 47"(120cm) | Waist: 44"(112cm) | Length: 25"(63cm) | Weight: 3.9 lbs (1766g)
Large - Sleeve Length: 22" (56cm) | Chest: 48"(122cm) | Waist: 42" (106cm) | Length: 23" (59cm) | Weight: 4.2 lbs (1904g)
X-Large - Sleeve Length: 22" (56cm) | Chest: 50"(124cm) | Waist: 46" (116cm) | Length: 26"(67cm) | Weight: 4.6 lbs (2080g)
(Please keep in mind for jacket sizes the most important attribute is the chest and waist size. Sleeve lengths can be adjusted by a local tailor -- most dry cleaners also offer alterations and they can easily adjust these to your arm length. The jacket sleeve can also be rolled under itself to adjust the size as well temporarily). 
PRODUCT DETAILS
Key Features:
Designed for HEMA Practitioners
Comfortable and easy to use
Innovative and functional design
Specs will vary slightly from piece to piece.